20 Years and Beyond
Since 2002, we have proudly developed and presented a rich array of Singapore stories and voices across different disciplines, platforms, and media. We are immensely grateful for your support as we fulfil our mission of bringing original Singapore stories that matter to you.
Please donate to Checkpoint Theatre and become our Checkpoint Champion. Join us in championing more original Singapore voices and stories that matter.
Become a Checkpoint Champion
Checkpoint Theatre is a non-profit company and a registered charity with Institution of a Public Character (IPC) status. With your support, we can continue to make theatre with honesty and humour, head and heart.
Please donate and become a Checkpoint Champion. Your donation will enjoy a 250% tax deduction and every dollar that you donate will be matched dollar for dollar by the Government under the Cultural Matching Fund: the more you give, the more the Government will give.
Donation Tiers
| | | |
| --- | --- | --- |
| Vermillion | | $10,000 & above |
| Flame | | $5,000 – $9,999 |
| Tangelo | | $1,000 – $4,999 |
| Amber | | $500 – $999 |
| Coral | | $300 – $499 |
In Appreciation
We show our appreciation to our Checkpoint Champions in a number of ways:
Priority bookings
Invitations to selected productions, programmes and events
Complimentary production programmes and selected publications
Acknowledgement in our production programmes and on our website
How to Donate
Donations may be made by the following methods:
PayNow or Bank Transfer
0% admin fee: our preferred method
Checkpoint Theatre Limited
OCBC 551 06666 5001
UEN: 200209251R
Crossed Cheque
Payable to Checkpoint Theatre Limited, mailed to 90 Goodman Road, Blk B #02-03, Singapore 439053
Please email us at giving@checkpoint-theatre.org with the details of your transaction:
the donor's full name,
the donor's NRIC/FIN (should you wish to receive a tax deduction receipt),
the donor's mailing address & email address, and
the donor's mobile telephone number.
We salute and thank our wonderful Checkpoint Champions!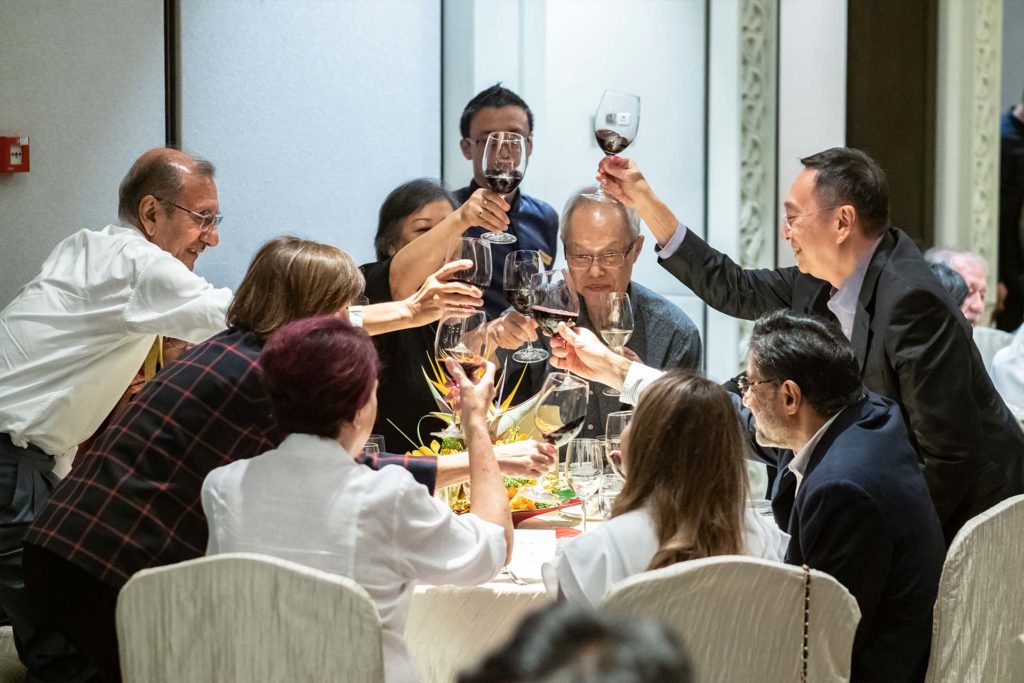 Champion-in-Chief
Suon Kuok
Vermillion
Dana Lam & Teo Teck Weng
Zaibun Siraj & Paul Drayson
Bill & Judy Bollinger
Katie & Robin Rawlings
Roopa Dewan & Shiv Dewan

Flame
Joshua Nair
Annabelle Yip & Ronnie Quek
Shirley Goh & Steven Luk
Carolyn Lam & James Hare
Leong Ka Tai & Rebecca Ng
Meena Mylvaganam & Michael Tay
Smitha Menon
Weiwen & May

Tangelo
Edward Lee
Vidula Verma & Christopher Chen
Zhou Suli
Anita Krishnamoorthy & Prabhat Ojha
Belinda Chng
Emmett & Hazel Wong
Evelyn Wong
Julie Wee
Kisha Tan & Mayank Dalakoti
Lynette Ng
Musa Bin Fazalur Karim
Ong Su-Chzeng
Pavitar Kaur Gill
R Badhri Nath
Steven Miller & Pat Meyer
Tay Tong
Teri Teo & Gan Ying Quan
Victor & Nancy Tan
Yvonne Tham

Amber
Amanda Chong
Amanda Wong
Barry Duncan Clarke
Chew Hock Yong
Ferdinand de Bakker
Hisaki Deguchi
Janice Ngeow
Jill Wong
Laurence & Luana Lim
Loong Seng Onn
Melvin Yap
Nikko Aw
Ong Yen Lyn
Patricia & Albert Wee
Phan Ming Yen
Robin Arnold
Su Lin Chionh
Vasan & Jennifer Iyer

Coral
Phua Jie-Ying
Peggy Tan
Jeremy Wang
Daniel Tham
Doreen Poh
Izyan Nadzirah Nordin
Kim Tay
Koh Kim Siah
Malcolm Sim & Lum E-Sean
Susan Lim
Xie Shangbin

And others who asked to remain anonymous.
Your good vibes and generous support mean the world to us.
Thank you from the bottom of our hearts!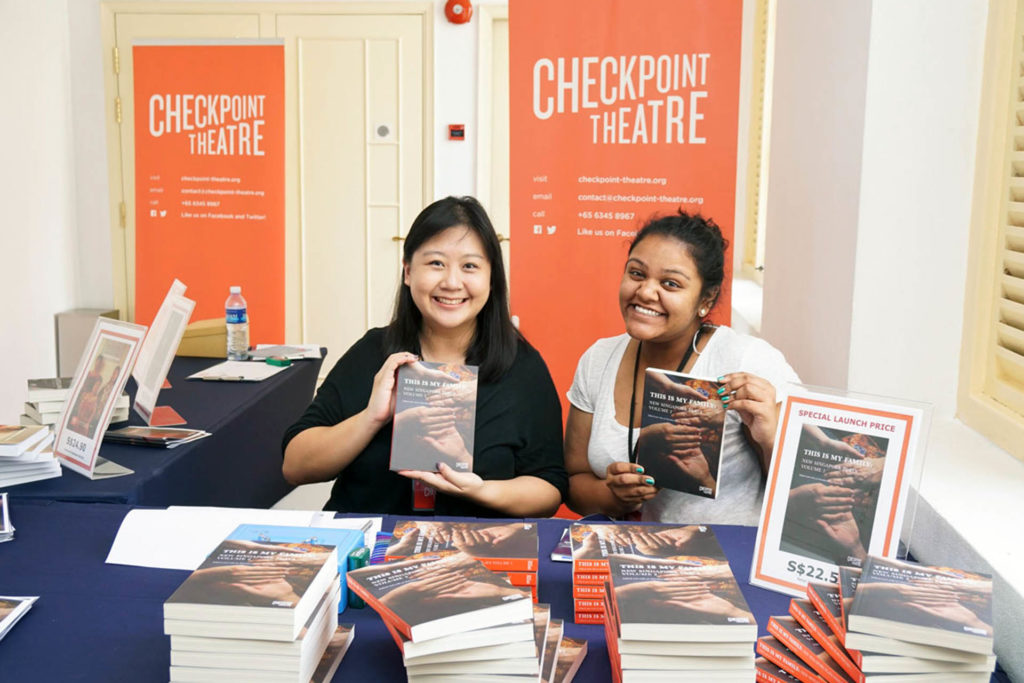 Be part of our Front-of-House team and play a vital role in creating a welcoming theatre experience for our audience! We are looking for volunteers who are passionate about the arts, personable, and can think well on their feet. Duties include greeting guests, handling patron queries, as well as managing the sale of Checkpoint publications. Training and guidance will be provided.

If you have time to give, get in touch with us at contact@checkpoint-theatre.org.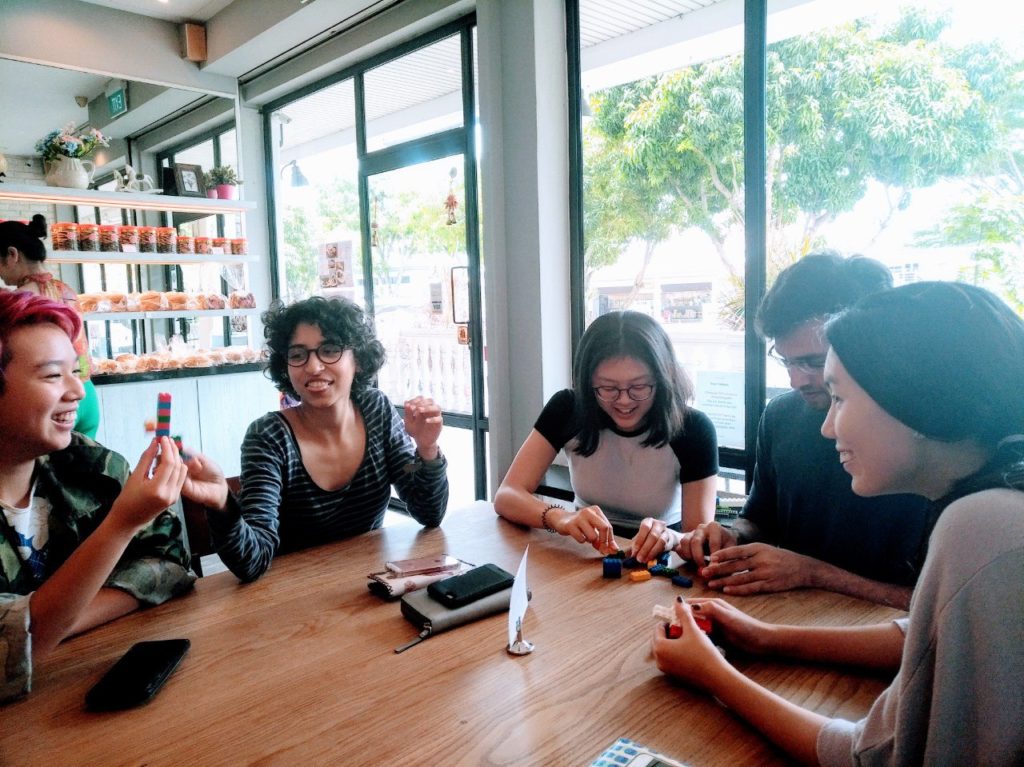 Checkpoint Theatre offers a holistic internship experience where you will learn first-hand what goes into bringing a production from page to stage. While duties will be primarily administrative in nature, interns are likely to have multiple opportunities (depending on the attachment period) to observe our creative process and follow the development of works-in-progress.
My time at Checkpoint Theatre was invaluable in helping me grow as an artist. This isn't a coffee and printing errands kind of internship — you are taken as seriously as anyone else on the team, and that helped me begin to take my own ambitions seriously, too.

M. J.
The amount of work, heart and collaboration that goes into Checkpoint's plays and productions show how much they care about and are motivated by original Singapore work. It was heartwarming to see that from a behind-the-scenes perspective and contribute to it.

R. Y.
My internship with Checkpoint Theatre has opened my eyes to many aspects of theatre and given me a new appreciation and understanding of what goes into theatre-making – beyond stage design, scriptwriting and acting.

A. S.
A full-time commitment of at least 10 weeks is required for an optimal learning experience. To apply, please send us your CV and proposed period of attachment at contact@checkpoint-theatre.org.